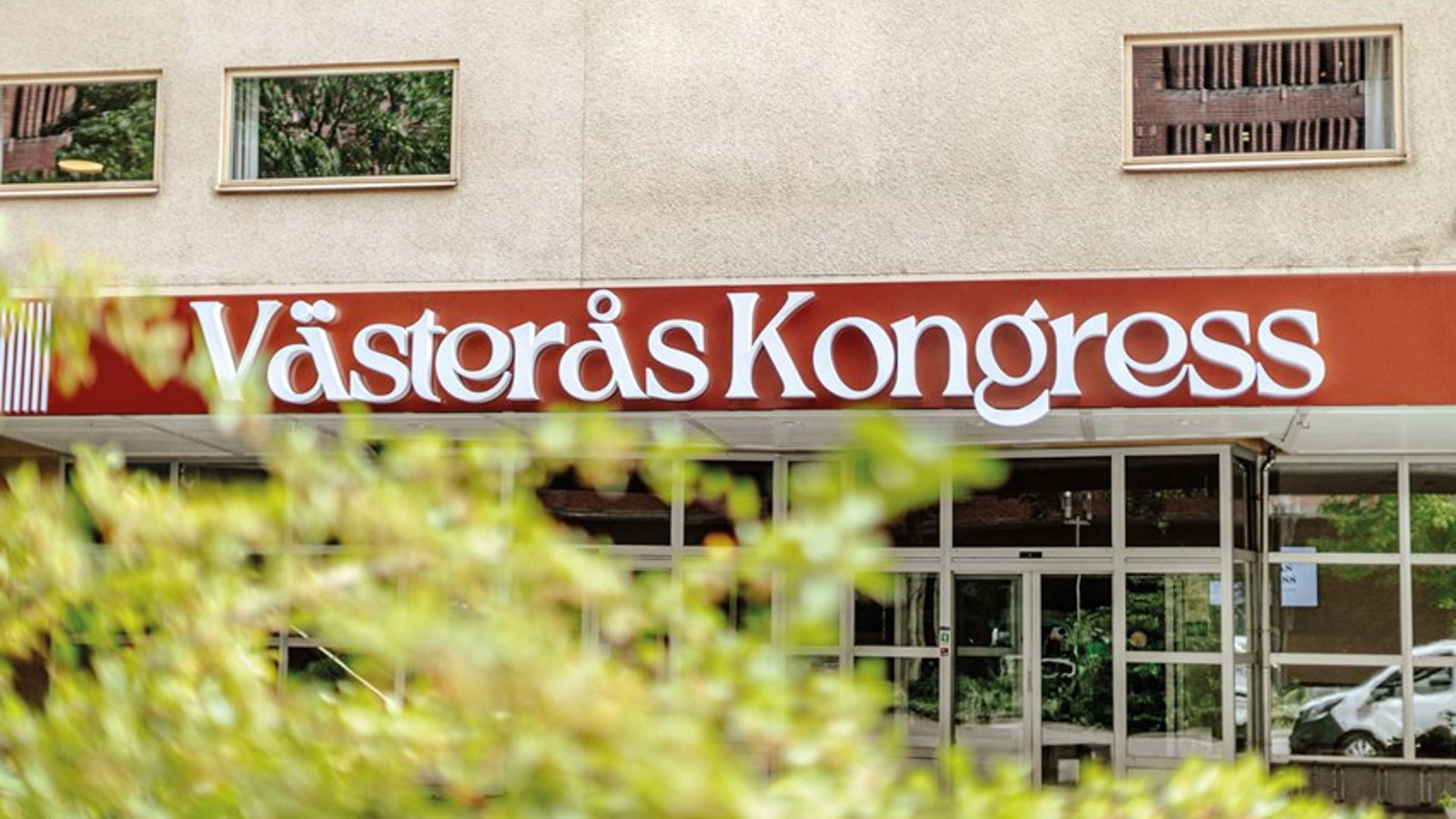 Västerås congress September 2023
Welcome to Västerås Congress, modern premises for all occasions! Confer in new inspiring environments, enjoy delicious meals and experience top-class service. We offer 23 different conference rooms for meetings with up to 1060 people and rooms for memorable moments such as parties, events and banquets. The facility has a fantastic location in central Västerås within walking distance to hotels, shopping and only 100 meters to the train station.
With the help of our experience and holistic approach to events and meetings, you as a customer get endless opportunities to arrange successful meetings with us. Welcome to Västerås Congress!
Västerås kongress
A place of possibilities
1060 guests

29 rooms

Largest room: 1332 sqm
Central & accessible

Food & beverage

First class service
Or give us a call at  021-495 98 00
Customize to your needs
Västerås Kongress has modern premises for all occasions. You can hold conferences in inspiring environments with us and enjoy delicious meals and top-class service. Our conference rooms are for creative minds, for analysis and decisions, and halls for memorable moments such as parties, weddings and banquets.
Our experienced meeting advisors stand by your side from the first meeting to the end. We will be happy to help customize your meeting and can help book dinners, lectures, administrative services and activities. We collaborate with several professional actors and can arrange valuable team-building activities both on-site and near the facility.
BROCHURES
| Premises | | | | | | | |
| --- | --- | --- | --- | --- | --- | --- | --- |
| 101 Lövudden | 66 Sqm | 40 | 20 | 20 | - | 24 | - |
| 102 Notudden | 82 Sqm | 60 | 30 | 22 | - | 36 | - |
| 103 Lillåudden | 82 Sqm | 60 | 30 | 22 | - | 36 | - |
| 104 Gäddeholmen | 82 Sqm | 60 | 30 | 22 | - | 36 | - |
| 201 Enhagen | 53 Sqm | 49 | 30 | 24 | - | 24 | - |
| 202 Kattskär | 54 Sqm | 40 | 24 | 24 | - | 24 | - |
| 203 Granskär | 52 Sqm | 40 | 24 | 24 | - | 24 | - |
| 204 Ekbacken | 55 Sqm | 49 | 32 | 24 | - | 24 | - |
| 205 Aggarön | 12 Sqm | - | - | - | - | 8 | - |
| 206 Ridön | 11 Sqm | - | - | - | - | 8 | - |
| 207 Björnö | 11 Sqm | - | - | - | - | 8 | - |
| 208 Ängsö | 11 Sqm | - | - | - | - | 8 | - |
| 209 Tidö | 11 Sqm | - | - | - | - | 8 | - |
| 210 Fullerö | 11 Sqm | - | - | - | - | 8 | - |
| 212 Almö-Lindö | 11 Sqm | - | - | - | - | 8 | - |
| 301 Västra holmen | 144 Sqm | 110 | 80 | 80 | - | - | 84 |
| 302 Östra holmen | 145 Sqm | 110 | 80 | 80 | - | - | 84 |
| 303 Elba | 23 Sqm | - | - | - | - | 16 | - |
| 304 Skåpholmen | 23 Sqm | - | - | - | - | 16 | - |
| 305 Fågelvik | 23 Sqm | - | - | - | - | 16 | - |
| 306 Vinterviken | 23 Sqm | - | - | - | - | 16 | - |
| Foajé plan 1 | 568 Sqm | - | - | - | - | - | - |
| Foajé plan 2 | 690 Sqm | - | - | - | - | - | - |
| Foajé plan 3 | 578 Sqm | - | - | - | - | - | - |
| Grupprum 211 | 11 Sqm | - | - | - | - | 8 | - |
| Kongresshall | 1000 Sqm | 1060 | - | - | - | - | - |
| Kongresshall 1/3 | - | 349 | - | - | - | - | - |
| Kongresshall 2/3 | - | 711 | - | - | - | - | - |
| Restaurant Mälaren | 1332 Sqm | - | - | - | - | - | - |
101 Lövudden
Available from September 2023
102 Notudden
Available from September 2023
103 Lillåudden
Available from September 2023
104 Gäddeholmen
Available from September 2023
201 Enhagen
Available from September 2023
202 Kattskär
Available from September 2023
203 Granskär
Available from September 2023
204 Ekbacken
Available from September 2023
205 Aggarön
Available from September 2023
206 Ridön
Available from September 2023
207 Björnö
Available from September 2023
208 Ängsö
Available from September 2023
209 Tidö
Available from September 2023
210 Fullerö
Available from September 2023
212 Almö-Lindö
Available from September 2023
301 Västra holmen
Available from September 2023
302 Östra holmen
Available from September 2023
303 Elba
Available from September 2023
304 Skåpholmen
Available from September 2023
305 Fågelvik
Available from September 2023
306 Vinterviken
Available from September 2023
Foajé plan 1
Available from September 2023
Foajé plan 2
Available from September 2023
Foajé plan 3
Available from September 2023
Grupprum 211
Available from September 2023
Kongresshall 1/3
Available from September 2023
Kongresshall 2/3
Available from September 2023
Restaurant Mälaren
Available from September 2023