Restaurant atPARK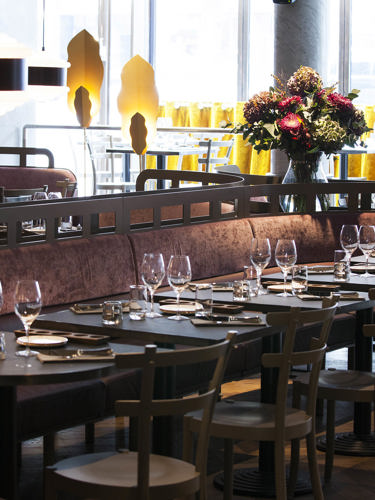 About the restaurant
At PARK is a natural and bustling meeting place with a fabulous location at Avenyn, near Götaplatsen. The restaurant finds its inspiration from the city's buzzing atmosphere and from how people meet and enjoy good food and drink.
Lunch is served Monday to Friday, à la Carte is served Monday to Saturday. The menu offers both Swedish and classical dishes with modern gastronomy. The inspiring environment is just as perfect for a business lunch as for dinner with friends. Solo diners are welcome to sit at the chef's table near the nice atmosphere in the kitchen. When the weather permits the terrace is the place to catch the afternoon sun.
THE BAR IS A NATURAL MEETING POINT
The bar is next to the lobby and is a popular place for business meetings, after work and drinks before the theatre, concert or other activities. The bar menu offers a variety of snacks, dishes, and classical Swedish meatballs. If you wish to book a private setting we can offer the exclusive "Chambre Separée" with a capacity for 10-25 people.
FOOD TO CONFERENCE AND EVENT VENUES
What is a conference without a nice coffee break or a party without good food and drinks? At PARK offers everything from delicious snacks to lunches, dinners, and buffets. The banquets menus are updated four times a year as we choose quality seasonal products.
GOOD FOOD IN A NICE ENVIRONMENT
It doesn't matter if you are a hotel or conference guest, a regular customer or just happens to pass by on Avenyn – you are always welcome to At PARK. We look forward to inviting you to our warm and inspiring restaurant.
SPEND TIME WITH GOOD FRIENDS IN OUR PIANO BAR
Bring your colleagues, friends or company to an afterwork or bubble night and enjoy the notes of piano musicians. We are open Thursday - Saturday.
Welcome to at PARK!
Please contact the restaurant directly for reservations.
Opening Hours
Monday-Tuesday: 11:30-14:00
Wednesday-Thursday: 11:30-14:00, 17:00-23:00
Friday: 11:30-00:00
Saturday: 17:00-00:00
Sunday: Closed
Find us
Restaurant atPARK
Kungsportsavenyn 36
411 36 Gothenburg