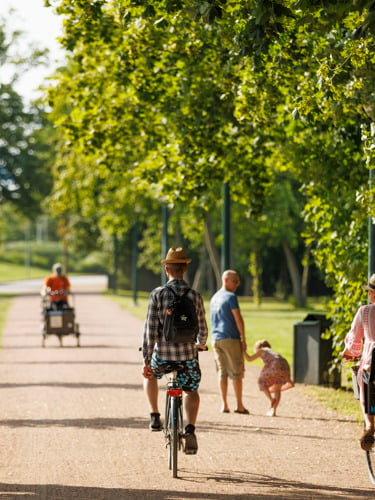 Our hotels in Lund
We have two hotels in Lund, Elite Hotel Ideon located in innovative Ideon Science Park and Hotel Bishops Arms, our 3-star hotel near the Central Station. Lund is genuinely an exciting city, and of course, the atmosphere is influenced by the many students. Experience everything from a historic city centre dating from the Middle Ages to a science park focused on innovative ideas.
Our hotels in Lund
Elite Hotel Ideon is our top modern hotel in Lund, in a unique building that is also the tallest in Lund. Enjoy a relaxed meeting place with quiet guest rooms, restaurant, bar, gym and relax.
Hotel Bishops Arms offers a pleasant hotel experience inspired by an English countryside inn. Here is also our popular gastropub The Bishops Arms where the hotel's guests check-in on arrival.
Walk along the streets and make a stop at Klostergatan to eat lunch or enjoy a coffee break. This is where you find many of Lund's favourite places. The market hall is also an appreciated choice to lunch visitors, and here you can shop delicacies from Skåne.
Enjoy the timber frame houses and the cobbled streets, visit the almost one thousand year's old Cathedral and the Historical Museum. Children will enjoy Vattenhallen Science Center, the open-air museum Kulturen and äventyrsbadet Högevall water park.