The Bishops Arms, Västra Boulevarden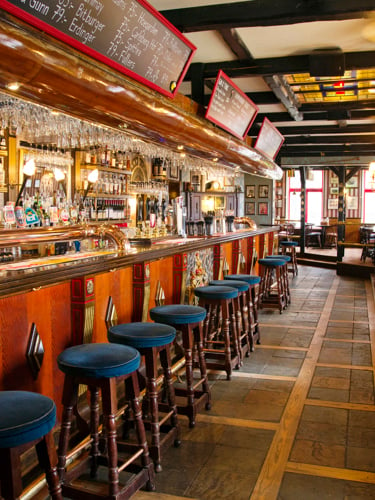 About the restaurant
The Bishops Arms is a chain of gastropubs at 40 locations across Sweden, from Kiruna in the north to Malmö in the south. The concept is a part of the hotel- and restaurant group Elite Hotels of Sweden, which is the largest privately-owned hotel chain in the country with 31 hotels in 17 cities. Roughly half of The Bishops Arms is built into an Elite Hotel. The Bishops Arms is reminiscent of an authentic English pub environment, built out of material and props purchased in England. Every piece of the interior is an experience in itself.
We offer the largest variety of beer and single malt whiskey in Sweden, with 20-35 different types of draught beer, 70-100 types of bottled beer and 250 types of single malt whiskey. A lot of Swedish and foreign microbreweries are represented in the assortment.
The wine is carefully selected from well-known brands that are offered at a reasonable price. Our staff is well trained to guide you through our wide product range.
A great deal of focus is put on the quality of food. On the menu, one can and classic pub dishes such as burgers and fish n´ chips and also an assortment of local specialties, depending on where in Sweden you are.
Each pub uses local recipes and ingredients as much as possible, in order to meet local demand with a personal twist.
Welcome to The Bishops Arms.
Opening Hours
Monday: 16:00-22:00
Tuesday-Thursday: 16:00-23:00
Friday-Saturday: 16:00-00:00
Sunday: 16:00-22:00
Christmas Eve (24/12):
Closed
Please note that the pub's opening hours may be adjusted at short notice.
Find us
The Bishops Arms, Västra Boulevarden
Västra Boulevarden 7
291 32 Kristianstad