Impasto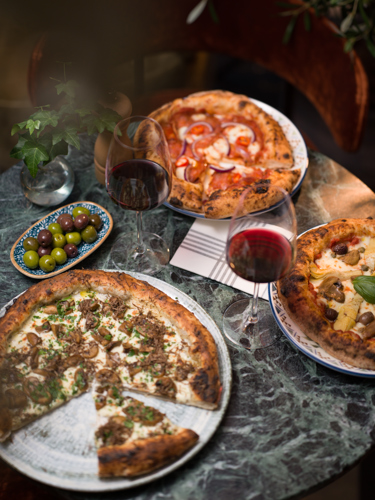 About the restaurant
You reach the hotel's back pocket through the entrance from Storgatan. Here you are welcomed by one of Northern Europe's largest wood-fired pizza ovens where our Neapolitan pizzas are baked.
The word Impasto means dough in Italian and has given its name to our back pocket as the dough forms the important basis of the famous Neapolitan pizza. The dough is kneaded with a lot of passion and feeling before it ferments for 48 hours and is then baked and topped with high-quality ingredients we have found through collaborations with smaller producers and farmers. Next, we bake our Neapolitan pizzas in a 450-degree oven for 90 seconds before they land in front of you. Of course you can also enjoy our pizza at home, we also offer takeaway of all our Neapolitan pizzas.
At Impasto there are 20 seats in an authentic, intimate room where you sit directly at the pizza kitchen just like in Italy. Simply just the way we want our best neighbourhood restaurant. Comfortable, homely and familiar are our watchwords.
Please contact the restaurant directly for reservations.
Opening Hours
Lunch
Mon-Fri 11:00-14:00
Dinner
Mon-Sun 17:00-23:00
Find us
Impasto
Storgatan 38 B
151 36 Södertälje