Vassa Eggen Steakhouse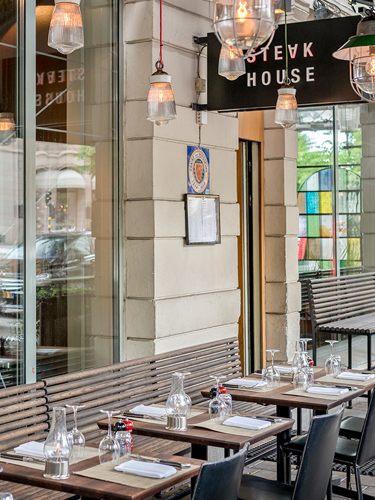 About the restaurant
If you love meat, Vassa Eggen Steakhouse is an obvious choice. With the focus on the grill and the best of meat, there are so many tempting dishes on the menu. Of course, there is also a good choice of dishes for people who prefer vegetarian, fish or seafood. The food is created from the best of products and the restaurant is popular for one, two or more people. The atmosphere is laid-back New York lounge style. The cocktail lounge is popular for after workers and during summer the outdoor dining is open.
Vassa Eggen Steakhouse is located in the same building as Elite Stockholm Plaza Hotel, a stone's throw away from Stureplan. Vassa Eggen is also where our hotel guests start their day with a generous breakfast buffet.

Read more at vassaeggen.com.
Please contact the restaurant directly for reservations.
Opening Hours
BREAKFAST
Opening hours for breakfast.
LUNCH
Monday-Tuesday: 11:30-14:00
Wednesday-Friday: 11:30-16.00
DINNER
Wednesday-Saturday: 16:00-20:00
Sunday-Tuesday: Closed for the time being
BAR
Wednesday-Saturday: 17.00–20.00
Find us
Vassa Eggen Steakhouse
Birger Jarlsgatan 29
111 45 Stockholm